Award winning restaurant, Corporate Solutions and Events
Welcome to Festival Street Kitchen
Our independent family business specialises in delicious homecooked food, which is made using the freshest of ingredients and supports the community through not only using local produce but also through compostable packaging and cutlery.
We love cooking and consider everyone when creating recipes by providing a wide range of food with no added gluten, dairy or other allergens.
Our staff and customers are fundamental to the success of our friendly company and we pride ourselves on being a trustworthy business who gives back to the community through charity work, vouchers for local raffles, sponsorships etc.
We believe good food should be affordable and made with a dedication to health and safety so people can have a place to eat out regularly without worry.
Our events take our company on the road and provide businesses, family gatherings, weddings, anniversaries etc with food that is full of flavour and made to order but will not break the bank.
We love to have fun doing what we do and you should always see our team with genuine smiles on their faces.

We also offer an in house corporate catering solution for both short and long term requirements along with buffets both hot and cold and always fresh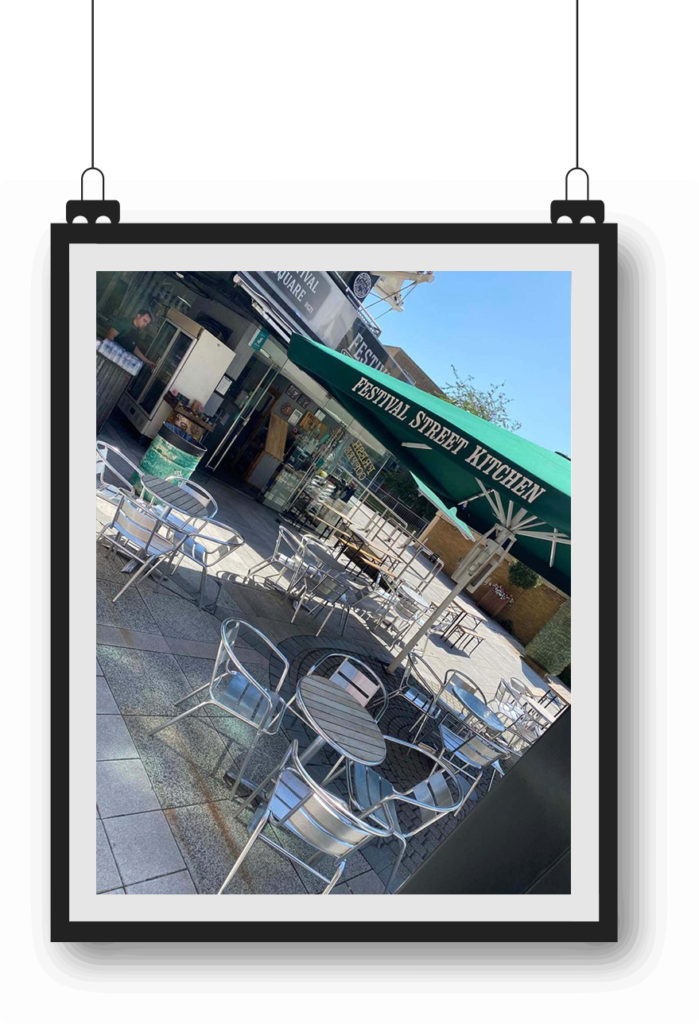 Excellent food Visited with my friend today for the first time. We chose pulled chicken quesadillas. What a treat! The freshest and tastiest food we have eaten for ages. Delicious and filling we absolutely loved our food. The festival street kitchen will be our go to place for food the next time that we visit Basingstoke.

Love this place. Best food for miles in this area!!! I am a regular here and felt compelled to write a positive review after my visit on Monday lunchtime. I find it to be one of the only places locally that you can get nutritional dishes that also taste amazing. The big pans are always delicious and they have recently updated the menu to include new dishes. They are a great team and the service is always exceptional. Special mention to Michelle and also Lili and Trudie who are always super fun, helpful and friendly.

Amazing food with amazing service Came in today with my friend, had the most amazing pulled chicken burrito, my friend had the big pan we took it home to eat as weather was awful, the 3 lady's working tonight was outstanding dispite the strong winds and none stop rain they was smiling and very chatty ( even though they looked freezing ) one point they was chasing the furniture bless them, absolutely amazing food and staff. We shall definitely be returning to you guys. Nice full belly's super value for money, thank you to the lady's don't know there names 🙂

Jerk chicken wow Today I tried for the first time jerk chicken with rice and peas topped with pineapple Coleslaw. I wasn't sure on the Coleslaw to begin with until the young man Tony said it just brings out the flavours. I must say he was correct I will definitely coming back and have downloaded there new app Thanks guys Until next time
God damn that burrito Best burrito iv ever had. And I'm a man who enjoys a burrito. Quick service, friendly staff. Cheers Tony.

Banging burrito Would just like to take a minute and say how amazing the food was from this place. They really go ot of their way to ensure i got exactly what i asked for and the lady that server me (believed her name was trudie) was so helpful and was so customer orientated. One of the ebst experiences ive had.

Robster89 Was visiting Basingstoke today and found this little gem. What a fantastic and unique place with such an extensive menu and all cooked /made in front of you. The smells coming from this little gem is invitation enough the sweet and Sour chicken looked amazing but My friend and I had the cajun chicken buritto and wow the flavours exploded in my mouth. The three members of staff (one gentleman and two young ladies) that were serving were efficient, professional and such fun, always smiling and very polite. I will definitely be recommending this place to all my family and friends

lisadavies2018
2020-10-15
Excellent food Excellent sweet and sour chicken with rice cooked on the massive pan can highly recommend. Large open seating area

Delicious food! My mum and I ate here today for lunch, we've never been to Basingstoke before let alone seen a place like this. The food was lovely and watching it be prepared in front of you is a great idea. I love the idea of street food and this place really solidified my expectations. The food was hot and tasty and affordable too. I had the pulled Cajun chicken burrito which was bursting with flavour and my mum had the kitchen notes of the day being sweet and sour chicken and rice which she also said was just as tasty too. Just before we left the line was down the street so definitely a popular place and somewhere I would recommend!!

Motocrossgirl19
2020-10-11
Food First time trying this place for food, I turned up a little bit tipsey. I had a lovely conversation with a lady called Michelle! Who went out of her way to even name each meal on the box so I knew which one was what when I arrived home! will definitely be going back 🙂